Are you loading data from an Excel workbook with external queries using SSIS? Do you want to make sure those queries are refreshed before the load takes place? Have I got the post for you! I recently had to do this myself, and after some googling with Bing, I found an MSDN forum post that describes how to refresh all of the queries within a workbook using an SSIS Script Task. I've adapted the code from the post, and you can find it below.
For the code to compile, you'll need to add a reference to Microsoft.Office.Interop.Excel within your script task's project.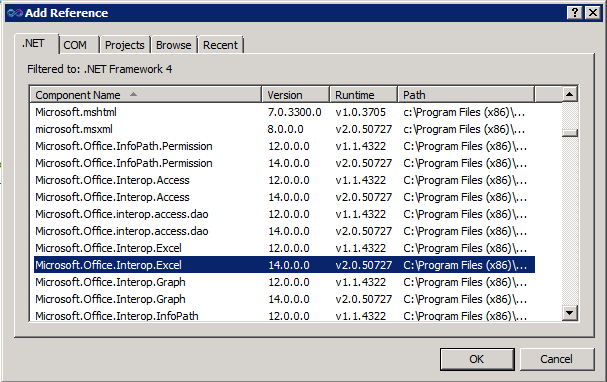 Next, select the reference under the project explorer, and open the properties window. You'll need to disable the Embed Interop Types option. (This assumes you're using SQL 2012, which supports .NET 4 … if you are using 2008 with .NET 2/3.5, you won't have to do this).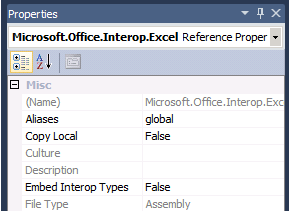 Include the following code in your script task. It iterates over all of the Excel connection managers within your package, loads the workbook, and calls RefreshAll() to refresh each of the queries in the workbook. The task then sleeps for 20 seconds (to give time for the query refresh to complete) before exiting.
1

2

3

4

5

6

7

8

9

10

11

12

13

14

15

16

17

18

19

20

21

22

23

24

25

26

27

28

29

30

31

32

33

34

35

36

37

38

39

40

41

42

43

44

45

46

47

48

49

50

const

string

DataSourceMarker

=

"data source="

;

// refresh each Excel connection manager

foreach

(

var

conn

in

Dts

.

Connections

)

if

(

conn

.

CreationName

==

"EXCEL"

)

var

parts

=

conn

.

ConnectionString

.

Split

(

';'

)

;

foreach

(

var

part

in

parts

)

if

(

part

.

StartsWith

(

DataSourceMarker

,

StringComparison

.

OrdinalIgnoreCase

)

)

filepath

=

part

.

Substring

(

DataSourceMarker

.

Length

)

;

Dts

.

TaskResult

=

(

int

)

ScriptResults

.

Success

;

private

void

ExcelRefresh

(

string

filename

)

object

NullValue

=

System

.

Reflection

.

Missing

.

Value

;

var

excelApp

=

new

Microsoft

.

Office

.

Interop

.

Excel

.

ApplicationClass

(

)

;

excelApp

.

DisplayAlerts

=

false

;

var

Workbook

=

excelApp

.

Workbooks

.

Open

(

filename

,

NullValue

,

NullValue

,

NullValue

,

NullValue

,

NullValue

,

NullValue

,

NullValue

,

NullValue

,

NullValue

,

NullValue

,

NullValue

,

NullValue

,

NullValue

,

NullValue

)

;

System

.

Threading

.

Thread

.

Sleep

(

20000

)

;

Workbook

.

Close

(

false

,

filename

,

null

)

;

System

.

Runtime

.

InteropServices

.

Marshal

.

ReleaseComObject

(

excelApp

)

;
I kept the code simple for this example, but there are a few different optimizations you can make here:
Add error handling
Pass in the excel file name through a variable instead of iterating over each connection manager
Refresh a specific query within the workbook, rather than calling RefreshAll
Find your query within the workbook and set the BackgroundQuery property to False to avoid the asynchronous refresh call, and having to sleep