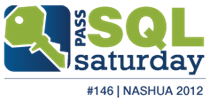 I've been invited to speak at SQL Saturday #146 in Nashua in October. I'll be presenting two talks related to Data Movement:
Efficient On-Premise to Cloud Data Transfer
Thinking about moving some of your operations to Azure? Have multiple remote sites, and want to use the cloud to centralize and share data between them?? Just like hearing talks about data transfer performance?! Have we got the session for you! We'll cover some common user scenarios, and describe when and how to use the latest Microsoft data transfer technologies, including SQL Server Integration Services (SSIS), SQL Data Sync (a capability of SQL Database), and more.
EIM – Bringing Together SSIS, DQS and MDS
Enterprise Information Management (EIM) is an industry term for managing your data for data integration, quality, and governance. This session revolves around a demo which brings together the EIM functionality in SQL Server, a key part of our Credible, Consistent Data story for the 2012 release. We will show you how SQL Server Integration Services (SSIS), Data Quality Services (DQS), Master Data Services (MDS) and other Microsoft technologies work together to provide a comprehensive EIM solution.
Both are intermediate (200-300) level talks, and will cover multiple technologies. I'll be using this as a venue to preview of some of the new content I'll be presenting at the PASS  Summit in November. I'll most likely end up in SSIS Design Pattern book co-author Andy Leonard's (Blog | Twitter) two SSIS sessions, as well – I always love to see other people present SSIS topics, and Andy is one of the best SSIS presenters around.
The full schedule is now available on the event site. If you're at the event, please come by and say hello! I'll be happy to sign your ebook edition of my two SQL 2012 books.
The timing is perfect, as I'll be presenting to the New England SQL Server User Group a couple of days before… Hope to see you at both events!